When I first went to Cuba and took private dance lessons in Havana, I thought I knew something about salsa. So I was amazed when the teacher totally disregarded what I thought I knew, and simply started showing me how to move my own body. As I wrote in Travels on the Dance Floor,
 'We work for two hours, and at the end of it I haven't actually taken a dance step. Instead I've started to develop a new sense of my own body, a new kind of internal map…. Gradually it started to come. My centre of gravity changes. I begin to find that it's possible to loosen up and let the different parts of the body flow, or float, to the music almost independently. I realise I've had a habit of holding my body tightly together, as if afraid the bits of me would somehow come apart if I didn't keep them together in one tense mass.' http://www.amazon.co.uk/dp/0233002987?tag=grelinpoewrit-21&camp=1406&creative=6394&linkCode=as1&creativeASIN=0233002987&adid=1XFFFVTR08ZQK9V2VTFT&&ref-refURL=http%3A%2F%2Fgrevel.co.uk%2F
In the UK, salsa is too often taught as if it's a matter of footwork and moves – arms and legs.  What I learned in Cuba is that the movement inside the body is far more important than the movement outside it. Once you're dancing from your heart, your kidneys, your hips, the soles of your feet, and the earth, then the 'moves' can be added. But with just the moves, you're not dancing Cuban salsa, your're just prancing about.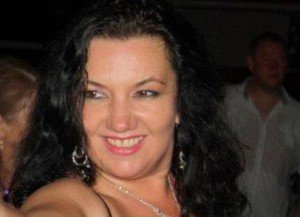 It's hard to find that kind of teaching outside Cuba. One of the few who really does teach it is Kerry Ribchester, and it was great to have her back in Manchester this past week taking some workshops in all the things that go together to make a really great dance experience: body movement, attitude, really feeling and using the music, and relating in a warm and living way to your partner – the most important person in the world for the five minutes of that particular dance.

Kerry has huge experience of dance, having danced professionally in Brazil, coached Madonna and Kylie in onstage movement and – most importantly – visited Cuba to work with Cuban dancers several times a year for the past fifteen years. She has produced award-winning music videos in Cuba, and she communicates a depth of knowledge about dance I haven't seen anywhere else, and she makes it really fun. Amanda and I never miss a chance to go to one of her workshops.
We took her class with Solar Salsa at the Spread Eagle in Chorlton on Wednesday, and Amanda was also able to go to Kerry's Saturday workshop at Sunshine Studios where they worked on the four 'layers' that make up the rich 'cake' of salsa: the Orisha dances of the Afro-Cuban gods; the Rumba (the competitive Afro-Cuban street dance which is all about attitude and maleness and femaleness); the Son – elegant social dance of the 1940s and 50s – and salsa itself, the spicy sauce that mixes them all.
Kerry's workshops are highly recommended:
She also heads Key2Cuba, http://www.key2cuba.com/kerry.html which provides the best and most authentic Cuba trips for people who want to sample the culture and meet the people as well as enjoy the dancing. When I go to Cuba alone I usually do it independently because I'm good at handling the many hassles you always have to go through contending with that complex culture; but Amanda and I have been twice with Key2Cuba – most recently in March 2013 – and I recommend the trips strongly. No other dance tours have anything like the level of authenticity and local contact that you get with Key2Cuba.
Cuba is changing fast and if you've dreamed of going there, you should do it soon. And if you want to go with a group, Key2Cuba is the one to check out. http://www.key2cuba.com/kerry.html