At last I'm in paperback. My book Travels on the Dance Floor has just appeared in the new format – and at half the price! – from publishers Andre Deutsch.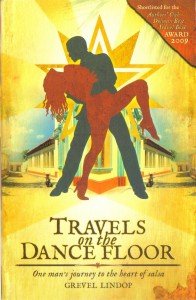 I'm pleased that they've kept the same funky, deeply colourful, slightly gritty look for the cover design (a bit pale in this jpeg – the one at right is more accurate!) – I wanted it to reflect the look of the beautiful, battered buildings of Cuba and other Latin American cities, where nothing is pristine, but the used-and-abused look only adds to the charm of the cityscape.
But they have added a corner-flash saying that Travels was listed as Authors' Club Dolman Best Travel Book 2009 – something I'm very proud of, even though the actual prize was won by a more scholarly tome. It was a very short short list, believe me.
What has delighted me even more than the listing has been the wonderful response I've had from readers – and by no means only from people who dance. People still come up to me in the street, at parties, at literary events, or they email me, to tell me how much they enjoyed it. Typical comments have been 'I tried to read slowly because I couldn't bear it to finish.' 'It was written so beautifully that I could see everything in my head like a movie in full colour.'
Am I boasting? Of course. But I'm also full of gratitude that I've been able to give readers so much enjoyment. A matter of sharing the delight I myself took in the adventure.
Travels sometimes gets referred to as my 'salsa book', but the truth is that I used dance as a way into Latin American and Caribbean culture generally: a way to get close to people, to learn from them, to explore the sides of these countries that the tourists don't get to see.
I travelled through Cuba, Venezuela, Colombia, Panama, Puerto Rico, the Dominican Republic, and ended up in Miami, Fla. I took lessons in the local dance styles in each country, and I explored the clubs and dance halls. I met magicians and pagan priests, policement and prostitutes, poets and musicians. I met a guy who made a living painting pictures on the sides of buses, an haute couture designer, and several lunatics. All of them were fascinating. And I met them pretty much on equal terms. I got robbed, I got arrested, I got lost, and I had the most wonderful time – better than I could ever have imagined.
I fell in love with these countries, their music, their culture and their people. And since I wrote the book with total honesty – and absolutely no regard for political correctness – I have to say that I fell in love above all with Latin American women, surely some of the most beautiful in the entire world. You will meet many of them in the book, and I hope you'll be as enchanted by them as I was.
Whether or not you dance salsa, tango or anything else, enjoy!