In the past few days I've been contacted by quite a number of students from Texas, who told me that my poem 'Five Lemons' was set as an essay subject for their IB exam (I'm guessing that's International Baccalaureate?). They mostly seem to have liked the poem but they also ask for interpretations of it. Since it isn't possible for me to discuss the poem with everyone individually, I'm writing this to tell the story of the poem and offer a few comments. I hope they're helpful!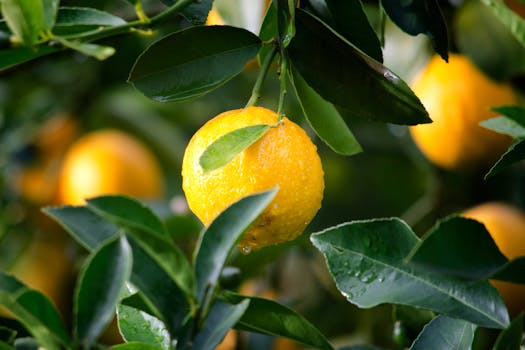 But first, here's the poem for those who don't know it:
FIVE LEMONS

Here are five lemons from the poet's garden,

the colour of white gold and icy sunshine,

flooded with green around the pointed nipples.

My younger daughter cuts one into quarters,

careful of fingers, bites the white-furred pith out,

devours the quartz-white segments with her eyes shut,

sighing and swaying in the sharp enjoyment.

Here are four lemons from the poet's garden:

one perched on three, a perfect tetrahedron.

The poet's widow showed me where to pick them,

kindly and shrewd, helping me find the best ones,

holding the branch down while I snapped the stalks off,

the cold breeze in our faces from the mountain.

We'll halve this one and squeeze it over couscous.

Here are three lemons from the poet's garden

still in the bowl, turned in a neat triangle,

yellower now. My elder daughter chooses,

after long thought, one for her still-life painting,

the twisted leaves like green airplane-propellers

with a Cezanne pear and a Braque violin,

fractured into art-deco Cubist slices.

Here are two lemons from the poet's garden

below his tall house on the terraced hillside,

red earth black-pitted with his fallen olives

between the gnarled trunks trailing silver foliage,

beside the boulders of the dusty torrent

rainless above that sea of sparkling turquoise.

The juice is perfect for a tuna salad.

Here is a lemon from the poet's garden,

the last of them. Long is the poet gone,

silent his grave on the hilltop under the cypress,

long the shadows drawn by moon and sun

out from the low walls and high gate of the graveyard.

I press the waxy peel to my face and breathe it.

There are no words for what the fragrance tells me.
So here's the story. In 1997 I was asked to edit The White Goddess, Robert Graves's wonderful book about myth and poetic inspiration, for a new collected edition of Graves's writings. Graves (1895-1985) had died twelve years earlier, and though he was an English poet and novelist (best known probably for I Claudius), he had lived in the village of Deya in Majorca. His son William invited me over there, to see Graves's own copy of the book, which had many corrections and alterations that needed to be put into the new edition.
I was hugely excited because it was reading Graves's work that had first turned me on to poetry, something which changed my life and has dominated it happily ever since.
So I went to Deya. Robert Graves's house, where his widow Beryl still lived, was on the hillside just outside the village. It had a sloping garden with fruit trees and olive trees. Beryl welcomed me into the house, where nothing had changed since Robert Graves's death. His hats were still on the hatpegs, his coats were in the closet in the entrance hall. Beryl said 'You'd better work in here!' and took me into Graves's study.
Everything was just as he'd left it: his pens and pencils, coins and little pebbles and other trinkets were on the desk, his books were on the shelves, there was an unfinished letter which he'd never signed lying on one of the surfaces. The atmosphere was electric: completely magical. So I sat in Robert Graves's chair, at his desk, surrounded by his books and possessions, and Beryl brought me his copy of The White Goddess with all his markings in it, and I began work.
Each day Beryl would give me lunch. Although she was living out in the Majorcan mountains, her household was completely English. She had two cats and a little dog, she had the Times Literary Supplement delivered every week, she had an 'Aga' stove, and for lunch she made things like scrambled eggs on toast, and bananas and custard. She was delightful.
At the end of the week I had finished my work on the book, but before I left Beryl took me down into the orchard below the house and helped me to pick the lemons, just as I've described in the poem. (The 'dusty torrent' is one of the 'torrents' or watercourses which run down the parched Majorcan hillsides between the olive groves; they fill up with water at certain times of year, or in summer at certain hours when the limited water supply is opened up to flow in that direction – the neighbours take turns to have the water, because it's so scarce – so the 'torrent' is really more of a 'channel'.)
I took the lemons home, and the poem describes what happened to them.
Now, about interpretation. Some people have asked me what the poem means, or to give them an interpretation, or to explain it to them. I don't think that is really possible, because a poem doesn't have just one meaning. It means different things to different people. Obviously we can all agree that a lemon is a lemon, and that turquoise is a colour we recognise; but once the poem is written it becomes an object, a thing that people can look at from different angles and turn over in their minds and reflect on. And everyone will come up with a different interpretation. There's no single 'right' or 'wrong' interpretation, and I love it when people see things in my poems that I didn't know were there!
That's as it should be. A poem isn't a riddle that has a single correct answer. It's more like a painting: everyone can look at it, and each person can find something different there. And as long as what you find fits with the words, then it's right. The more meanings the better!
I can add few details. Obviously the poet's garden – for me – is Robert Graves's garden. (But maybe it could be any poet's garden!) The grave is his (sorry about the repetition of the word 'grave', it can't be helped!) – a very simple village grave in the small churchyard at Deya on the hilltop, which does have a low stone wall and then a tall gate which sticks up. But again it could be any poet who has died.
In the poem I think I'm a bit sad at the end as I smell the fragrance of the last lemon. It's my final contact with the place and the experience, and with Beryl, and it's like a gift from the poet himself; but there are some things you can't put into words, so the poem ends maybe with a touch of sadness, a memory that's valuable but also admitting that even in a poem you can't say everything.
So my warmest thanks to all the people who wrote to me, for your generous appreciation of the poem. I hope you really enjoyed it even though it came to you as part of a test – maybe not the best way to meet a poem! I hope it left some happy pictures in your minds, and also a pleasant scent of lemons!
If you ever want to visit the the house – La Casa de Robert Graves – the website is here:
http://www.lacasaderobertgraves.org/en/